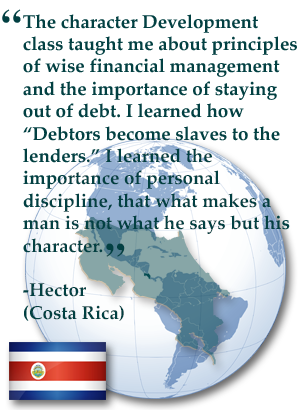 All the teachers and leaders at Harvest Bible University work together to maintain much lower costs than other Bible colleges and universities, while providing quality education. Many individuals, families, and churches give sacrificially so that the tuition and fees are very low at Harvest compared to most other Bible schools (some of which have to charge over $500 per unit). We really praise God for this. Here are the actual costs.
What it Costs to Attend University
• Application fee (only once): $ 10.00
• Tuition per unit: $ 37.50
• Tuition per class (each class is 2 units): $ 75.00
• Extra materials, if any,  per quarter: $ 10.00
• Graduation fee (only if graduating): $ 100.00
Total Cost
• Per quarter,  1 – 8 classes: $ 75.00 – 610.00
• Per year,  3 – 24 classes: $ 225.00 – 1,830.00
Method of Payment
Students only pay for classes that they sign up for. No advance payment is required for any program, degree, certificate, or diploma at Harvest.
Payment for classes is due at the time a student registers for the quarter. For example, if a student signed up for seven (7) classes at the beginning of fall quarter, he or she would pay 7 x $75 = $525 with the registration form. If a student is truly not able to pay in full at the time of registration, he or she may request permission to make monthly payments. In that case, he or she would pay one-third of total fees for the quarter at the time of registration, one-third on the same day of the following month, and the last one-third on the same day of the second following month. If any other charges are accumulated, they will be due with the last payment of the quarter.
Refunds
Upon written cancellation of enrollment delivered to the school in person or by mail, the student will be refunded the cost of his or her courses for the quarter, based on this schedule:
• Through the 1st & 2nd week of classes: 100%
• During the 3rd & 4th weeks of classes: 75%
• During the 5th & 6th weeks of classes: 50%
• During the 7th & 8th weeks of classes: 25%
• After the 8th weeks of classes: 0%
If a course is canceled by the university, all fees paid by the student for the course will be refunded. Refunds will be made within 15 days of cancellation of the course.
The university has no provision for buying back materials that may have been required by an instructor.
Unpaid Fees
No report cards, degrees, or transcripts will be issued for a student who is behind in his or her payments. A student having financial trouble should be sure to let the Registrar or Dean know as his or her first, not last, resort.
The Lord is good to all, and His mercies are over all His works . . . . he eyes of all look to You, and You give them their food in due time. You open Your hand, and satisfy the desire of every living thing . . . . The Lord is near to all who call upon Him, to all who call upon Him in truth. He will fulfill the desire of those who fear Him; He will also hear their cry and will save them . . . . My mouth will speak the praise of the Lord; and all flesh will bless His holy name forever and ever. (from Psalm 145)
Financial Assistance
Harvest does not have any scholarship program, private, government or otherwise, to provide grants or to pay for portions of tuition and fees. Rather, every student receives, in effect, a scholarship because of the very low tuition. However, many churches do provide scholarships or other assistance to students from their own church who are attending Harvest. Check with your church.
Housing
Most Harvest campuses do not have housing; students are responsible to find their own. At some campuses, the school may be able to assist students in locating suitable housing.